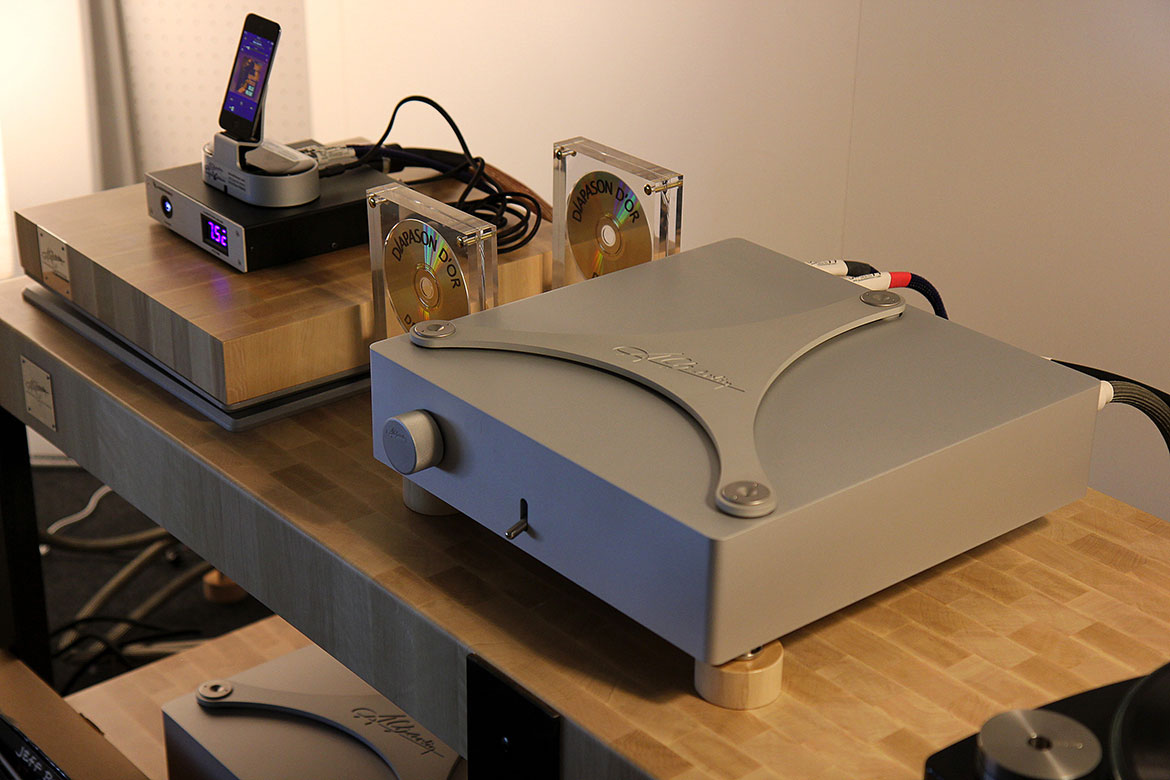 The name of André Charlin reminds to the few who consider high fidelity as a passion that he was one of the rare engineers of the French sound to revolutionize the great principles of recording and musical reproduction. For André Charlin, reproducing music in an authentic manner consisted of the imitation of Nature and in particular, to respect the original sound in space, as he wanted to record and recreate identically. He wanted to use the technical devices in a way to record as naturally as possible, and to enjoy the emotion created by music. So we owe the invention of stereophony to André Charlin. He was also the first to create and to sell stereophonic records in 1949.
CHARLIN PREAMPLIFIERS AND AMPLIFIERS AS A TRIBUTE TO THE INVENTOR OF STEREOPHONY
To pay tribute to the inventor of stereophony, it is in the same spirit that Olivier Robert presents his electronics to us. They are named André Charlin. Thus, Mrs. Albohair, a friend of the Charlin family, proposed to Olivier Robert to perpetuate the memory and work of the inventor André Charlin. Taking care of the Charlin records catalog as a real mission, Charlin's name is not ready to disappear. Today, the spirit of creativity, invention and absolute respect for musical authenticity is inscribed in the heart of these electronics, presented by Olivier Robert, CEO of Roboli Design.
Invented with an approach often called « global and radical », the Charlin electronics which are offered to you take advantage of the most modern technology to let your passion for music living even more. As Andre Charlin had wished, it will always be a question of reproducing the accuracy of the music, with all the emotions aroused by listening. Charlin electronics are made to reproduce the true feeling of classical, symphonic, jazz, blues and all other musical creations that animate the passion of men…
A RANGE OF PREAMPLIFIERS AND REFERENCE AMPLIFIERS ARE CREATED BY THE MAISON CHARLIN
Today, the Maison Charlin has based its creations on the spirit and inventiveness of the creator of stereophony, with the advantages of modern technology. Thus, the Reference Amplifiers 4S represent the apex of the Charlin electronics range. They are original vectors of emotion, they bring together all the technical and technological innovations that have led to an authentic and unimpeded musical reproduction…
In addition, the Mini S Series has benefited from the same research concept of ultimate musical quality. It has been made possible by the most advanced technological solutions, in particular in terms of power supply, regulation and vibration flow, among other technical innovations. Each of them has been validated by objective measurements as well as by the musical listening of music lovers and audiophiles savvy, recognized for the pertinence of their critics.
TO RESPECT THE SPIRIT OF ANDRÉ CHARLIN IN HIS QUEST FOR MUSICAL GENEROSITY AND AUTHENTICITY
The Mini Pre-Phono Preamplifier and Mini S Stereophonic Amplifiers perfectly respect the spirit of André Charlin because they ideally combine the quality of musical reproduction sought by his designer and the persistent idea that technology must comply with reproduced music. On the opposite, music does not have to deal with a technological compromise. Moreover, the Charlin phono preamp perpetuates all the musical generosity of vinyl records, a renewed tribute to André Charlin, a true talented inventor…
CHARLIN ELECTRONICS, CABLES, FURNITURE AND ACCESSORIES ARE ASSOCIATED WITH NOTIONS OF MUSICAL EXCELLENCE AND EMOTION
MiniS stereo amplifier, MiniPRE and Ultimate Series Preamplifier with the 4S Monophonic amplifier and e-Power 10, The Maison Charlin also offers more than 50 references of modulation cables, speaker cables, mains cables, digital cables, crosscut wood furniture, fuses, active and passive filters…
Each device, cable and accessory was conceived, created and completed with the same notion of perfection and excellence for music, as the French inventor of stereophony had desired. Each of the Maison Charlin devices corresponds to what the audiophile or the music lover is entitled to expect from the true High-End of High Fidelity, the original and authentic reproduction of living music, with all its expressive richness…
Today, we invite you to live the music as André Charlin wanted to listen, under the approach of musical emotion and excellence, without any compromise…
Olivier Robert
Roboli Design CEO